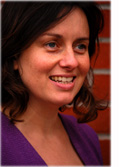 After completing a music degree, Kate trained as a primary school teacher and worked for 10 years in mainstream education specialising in music. Her work with children included running choirs, recorder groups and composing workshops. She also worked in the area of staff training and development, mentoring teachers and students and running workshops in music education.
After the birth of her daughter in 2000 Kate became a freelance music educator and consultant. She trained to teach the American Kindermusik programme for young children in 2001 and began to research the beneficial effects of music education on the brain.
As an educational consultant specialising in the early years, Kate trains staff at workshops which help them feel confident about sharing music with the children they work with.
Working in Schools, Kate has used music to help develop speech and language skills with children who have special educational needs. She believes firmly that music education is essential for the developing brain and that every child has musical potential.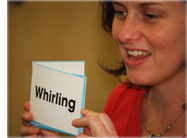 Kate believes that even tiny babies can benefit from regular musical activity and is passionate about communicating this. As a trained developmental baby massage instructor she combines music, massage and signing in her baby classes.
She has a thorough understanding of child development and knows how to utilise music education to aid in the development of the whole child. Kate is keen to share this information with parents and as a part of her training courses. She believes that musical activity can be used to develop and maintain attachment between children and their carers.